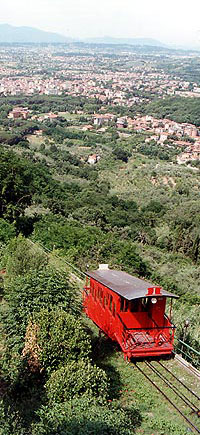 The Funicular looks like one of those little trains of the Western movies pursued by the Red Indians and even its age brings us back to that period; on March 1, 1897 the first rail works began. The dream of many inhabitants of Montecatini to be easily connected to the "Castle" was about to come true.
The excavation and building works such as viaducts and bridges and the track laying lasted some months.

The beginning of 1898 was employed for the technical improvements of the facility and especially in preparing the great opening ceremony which took place on June 4, 1898 with the participation of famous people such as the genius of the opera, Giuseppe Verdi.
Up to 1921 the two red little trains were operated by a big steam boiler located in the uphill station; subsequently, thanks to electricity, traction was carried out by a powerful electric motor.
The Funicular service went on safely up to September 2, 1944 when a troop of sappers in retreat, in setting off some charges arranged in various sides of the facility caused serious damaged to it, making it unserviceable up to 1949. A Florentine entrepreneur, in collaboration with the Montecatini Municipality carried out the restoration works necessary for its reopening.

The end of the war was followed by the years of the economic recovery. Montecatini became a very attractive thermal resort for thousands of people during summer and the Funicular was more and more utilized by the tourists who wish to visit the "Castle".
In 1977 following some difficulties due to the facility upgrading and fitting works, the Funicular was closed and reopened only with the contribution of the Tuscany Region allowing the coaches restoration, the installation of a new motor and of a very modern "black box" for the trip control.

The activity reopening took place on August 3, 1982. Since then in order to make the vehicle safer to passengers, various mechanical traction parts have been replaced and very important upgrading works have been realized. The two historical coaches, which "greet" half way, have not been modified. The structure is the same: three compartments with wooden benches and two external balconies, the most longed-for places from which you can enjoy a wonderful panorama.